Currently Im using Photobucket for uploading my pictures and videos to my blog, and of course Labuan.net.
I know this is kinda lame to tell people how to register this and that to start using this application. Well, the registraion procedure is just the same like others (email, blog subcsription, etc.)
So, I should start on how to upload your pictures / videos.
At the top of the page, you will see this menu. This is where you will put your pics/vids from your PC to be uploaded to your Photobucket account.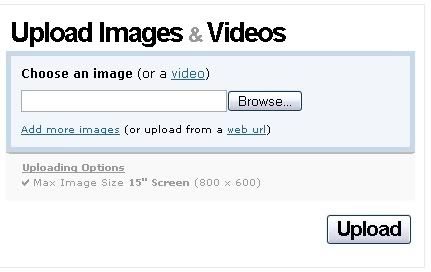 1. Click
Browse
, then a window will pop up. Please choose picture and the file link of your picture will appear in the box.
2. To add another / multiple pictures, please click
Add more images
and another 4 box will appear. Repeat step 1 to add another pictures.
3. If the pictures are from other website, click
web url
, and copy the link of the picture and paste it on the box.
* If you want to upload video, click
video
and repeat step 1 to 3.
** In Labuan.net, uploading pictures from other websites are just as easy as ABC. Just click the button Img in the posting mode and paste the picture link in between
[IMG]
and
[/IMG]
.
After the pictures uploaded to Photobucket, you will be notified by the message
Photo Uploaded!
on the top of the page.
Scroll down a little bit and you will see this.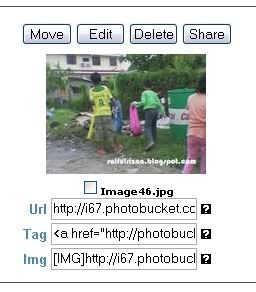 From here, you can upload your photo to any web/forum, etc.
To upload pictures to my blog, I will use
URL
code as blogspot will automatically allign and marginalised the photo to fit my blog frame.
Tag
: If you use this, the picture posted will appear to be the same size of your picture, without resizing it to the browser / page requirement. Meaning this function will sacrifice your page allignment.
Img
: Mostly you will use this to post your pictures in forums.
* Just copy and paste the code (according to the function) to the desired page / forum.
Another function :
1. You can create sub album to organize your pixtures for easy reference / archive.
2. Another menu tab that I never use.

Hopefully this instruction will help. If you have any suggestion or to correct my words, please dont hesitate to reply this thread.